By Massimo Palmarini, John McLauchlan and Angela Elliott.
Our friend and colleague Richard Elliott, died after a brief illness on the 5th of June. Here we would like to pay tribute to him and his work.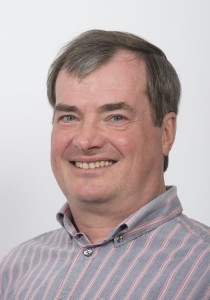 Richard M Elliott, who has died aged 61, was one of the most eminent Virologists in the UK and a world expert in emerging viruses.  Richard was the Bill Jarrett Professor of Infectious Diseases at the MRC-University of Glasgow Centre for Virus Research.
Richard dedicated most of his career to the study of bunyaviruses, a large virus family, that is found across the globe and which infects plants, arthropods and a variety of animal species including humans.  Richard was among the first to recognise bunyaviruses as an emerging threat for both human and animal health, and highlight their importance to the scientific community. He pioneered molecular studies into the characterization of the viruses undertaking highly challenging work using the tools and technology available. Over the last three decades he has unveiled many of the properties of bunyaviruses, from the intricacies of their replication cycle to how they counteract immune responses to infection.
Along with Anne Bridgen, Richard published a seminal study in the Proceedings of the National Academy of Sciences in 1996 which demonstrated for the first time that it was possible to produce infectious virus from cloned complementary Bunyavirus DNA. This had proven to be a barrier for the study of viruses with negative strand RNA genomes which were segmented. This breakthrough paved the way for similar approaches with Influenza virus, another clinically important virus possessing a segmented RNA virus genome. In the subsequent years, Richard has continued to contribute major findings on many of the key aspects of bunyavirus infection, in the process designing strategies to attenuate the virus for the development of safe and efficient vaccine candidates.
Richard Michael Elliott was born in Freetown, Sierra Leone on 2 February 1954. Richard's parents, Peter and Gwendoline were living in Sierra Leone where his father was a bank accountant when Richard was born.
Richard studied Microbiology at the University of Surrey and then joined the University of Oxford to undertake a PhD on the replication of viruses of invertebrates under the supervision of Dr David Kelly. In 1979, he moved to New York, to work with Dr Peter Palese on the molecular biology of influenza viruses at the Mount Sinai Medical Centre.  He returned to the UK, initially joining the MRC Virology Unit at the University of Glasgow. He continued his career in the Department of Virology at the University as a Senior MRC Fellow from 1986 before becoming Professor of Molecular Virology in 1995 and joint Head of Division of Virology in 1998. He pursued his studies at the University of Glasgow until 2005 when he moved to the University of St. Andrews and became Professor of Virology there. In 2013, he returned to Glasgow to join the newly established MRC-University of Glasgow Centre for Virus Research where he held the Bill Jarrett Chair of Infectious Diseases.
Richard was fully immersed in and committed to promoting virological research in the UK. He was first an Editor (1996-2001) and then Editor-in-Chief (2008-2012) of the Journal of General Virology and was a member of the International Committee for the taxonomy of Viruses (Bunyaviridae Study Group) since 1998. Richard chaired this group between 1996-2002 and 2012-2014. He sat on a variety of Scientific Advisory Boards including those of the National Collection of Pathogenic Viruses, the European Virus Archive, the Moredun Research Institute and the Pirbright Institute. After the emergence of Schmallenberg virus, he advised the European Food Safety Authority as a member of the Working Group on this newly emerging virus of livestock.
Richard received numerous recognitions for his work. He was a Wellcome Trust Senior Investigator, a Fellow of the Royal Society of Edinburgh and a Fellow of the Royal Entomological Society.
Richard was an inspiration and mentor to many people who benefited from his scientific knowledge and experience. His drive and commitment did not waver to those around him in the last months of his life after diagnosis of a terminal illness. He continued to support his students, the members of his laboratory and colleagues at the Centre for Virus Research until days before his sad passing.  He always said to members of his laboratory, and continued to emphasise during his illness, that the best they could do for him was "to work hard and get results!"
Richard loved his family, his science and, as a keen angler and hillwalker, the outdoors of Scotland. He enjoyed completing his 50th Munro shortly before his diagnosis last year. As a now senior member of Dunoon and District Angling Club, membership spanning over 25 years and President of the Club from 1996-1999, Richard was the proud recipient of 5 fishing cups. He won the D. Pittman Trophy in 2001, 2002 and 2003, a great achievement for any angler to win the same cup 3 years in succession.
Richard is survived by his wife Angela, his daughters Katrina and Emma and his parents.
Richard wrote more than 160 publications. Links to some of his key papers can be found below.
http://www.pnas.org/content/93/26/15400.full
http://www.pnas.org/content/98/2/664.full
http://www.ncbi.nlm.nih.gov/pmc/articles/PMC161919/
http://jvi.asm.org/content/78/11/5679.long
http://jvi.asm.org/content/80/16/8089.long
http://vir.sgmjournals.org/content/94/Pt_4/851.long
http://journals.plos.org/plospathogens/article?id=10.1371/journal.ppat.1003922
http://www.nature.com/nrmicro/journal/v12/n10/full/nrmicro3332.html
http://jvi.asm.org/content/89/6/3026.long