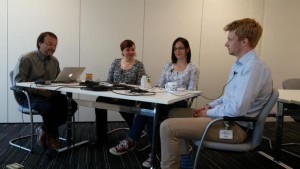 Last week, as part of the Glasgow Science Festival, Vincent Racaniello was visiting the CVR. Vincent is the well-known host of the weekly netcast TWiV (This Week in Virology), "the podcast all about viruses". While here he recorded two podcasts, the first of which went live a few days ago. Vincent was taking part in the British Society for Gene and Cell Therapy (BSGCT) public engagement day and his stay (as well as the Science Festival Event) was sponsored by the BGSCT, the Society for General Microbiology (SGM) and the University of Glasgow.
If you have never listened to any of the TWiV series then now is your chance! Ease yourself in gently with a highly informative podcast all about three different experiences with Ebolavirus. (If that gets you going then there are 340 previous podcasts to catch up on.)
VIncent sat down to have a chat with Dr Emma Thomson, Clinical Senior Lecturer at the CVR, about her experience in diagnosing and treating a nurse in Glasgow who had been infected with Ebola when volunteering in Sierra Leone. She details the procedures that were carried out to deal with this and gives a clinical perspective to treating a patient with a viral hemorrhagic fever in the UK.
Gillian Slack , PhD student in the Elliott lab, was also able to recount her story of volunteering to help in the diagnostic lab in Kerrytown, Sierra Leone. There have been quite a few CVR postdocs and students that have followed suit, but Gillian was able to give a very interesting account of actually being the first on the scene to help set up the lab when it was still under construction and Sierra Leone was at the peak of the Ebola outbreak.
Dr Adam Kucharski, a Research Fellow at the London School of Hygiene & Tropical Medicine, gives an insight into how information collected from this Ebola outbreak can be used to analyse the epidemiology of this emerging disease.
Thanks goes to Connor Bamford for organizing this event. Connor is an SGM 'champion' for Glasgow.
Listen to the podcast here.
http://www.twiv.tv/2015/06/14/twiv-341/
By Joanna Morrell, Ph.D student. @joanna_morrell
With thanks to the rest of the blog contributors for reading critically.